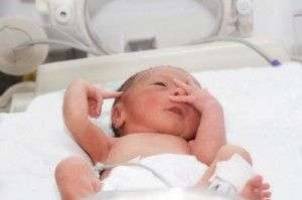 A new study finds that babies born to mothers who are depressed during pregnancy have higher levels of stress hormones, decreased muscle tone, and other neurological and behavior differences. This means that infants are either more sensitive to stress or are less able to shut down their stress responses.
Lead Investigator Dr. Delia M. Vasquez and her colleagues conducted a study, that included 154  pregnant woman, over the age of 20, whose depressive symptoms, were addressed during their 28,32, or 37th week of pregnancy. Their depressive symptoms were also looked at after the birth. Umbilical cord blood was taken at birth to measure the levels of stress hormones, and at 2 weeks, the infants underwent neurobehavioral tests. Neurobehavioral tests assess the infant's motor skills, and responses to stress.
A clinical director of U-M's Child and Adolescent Psychiatry Section, Dr Sheila Marcus, stated it's difficult to say what the differences in babies born to mothers with depression, if it is a possible or negative thing. She also said that it is hard to determine what the impact will be as they age, but they are looking into differences in risk markers. With the knowledge of these risk markers, will the physicians know which women need more attention during pregnancy or what woman will benefit from postpartum programs.
It is important that pregnant women who show signs of depression contact a therapist because up to one in five women experience depression during pregnancy.