Prescription Point is a Canadian-based online pharmacy that is guaranteed safe and provides prescription savings of up to 90%. We are a trusted online mail-order international pharmacy that offers the lowest prices on both brand-name and generic medications while giving the best online services.
"Is buying prescription drugs online safe?" "Are online pharmacies safe and legal?"
At Prescription Point, we also provide drug information and assistance on how to buy medicines safely from an online pharmacy. With our experienced medical staff, we are committed to providing the highest standards of care.
Proudly displays Canadian International Pharmacy Association Trust Seal
Canadian International Pharmacy Association or CIPA is a group that ensures all online Canadian pharmacies are safe. They have maintained a hundred percent patient safety record while working with pharmacists, physicians, regulators, patients, the government, and consumer advocates.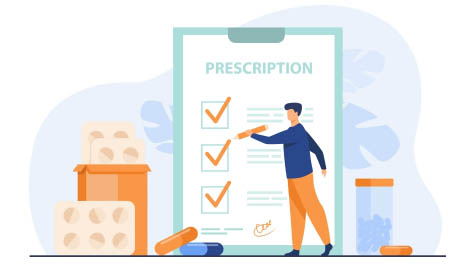 Dispenses prescription and non-prescription drugs only through a valid prescription
As a trustworthy online pharmacy, we require a valid prescription in order to ensure the accurate supply and distribution of drugs to our patients. We can achieve better health outcomes if medications are dispensed correctly and as prescribed.
Most Popular Prescription Drugs
Basically, the difference between over the counter and prescription medication is the valid prescription that you have to secure from your doctor. Although there are similarities between OTC and prescription drugs, the salient point is prescription drugs are only prescribed and should only be used by the patient to whom it is prescribed for. Also, they should only be purchased at licensed pharmacies. Prescription drugs are products that are usually strong medications that are often misused, such as stimulants, depressants, opioids, and antibiotics.
To further compare prescription and over the counter drugs, OTC or prescription medications are drugs that can be purchased off-the-shelf and without a prescription. These are products that are generally safe and could relieve symptoms effectively for as long as you follow the label provided and comply with the directions given by healthcare professionals. We may provide assistance if you have further questions on prescription vs OTC drugs.
Are medications cheaper in Canada? Straight out, YES. If you wonder why are drugs cheaper in Canada, it is because their government continuously regulates prescription costs in Canada. The Patented Medicine Prices Review Board or PMPRB ensures that all drugs from approved Canadian pharmacies and mail order drugs from Canada are reasonably priced. This board is also responsible for regularly monitoring the prices and informing people regarding upcoming drug trends in Canada.
Cheaper prescriptions in Canada aim to make sure that health is universally accessible and affordable for everyone. From the point of comparison, the cost of prescription drugs in US vs Canada is two times higher, or even more. This results in more and more Americans buying drugs in Canada, particularly from online pharmacies.
But are Canadian pharmacies reliable? Despite much lower prices, all licensed Canadian pharmacies with CIPA Trust Seal are guaranteed safe and reliable. We aim to offer affordability and safety to all the patients we cater to.
Most people buying from online pharmacies ponder, "Can prescriptions be returned?" To protect your safety, and all parties involved, all sales are considered final. Based on the returning prescription drugs policy under the Pharmaceutical Law in Canada, all dispensed prescription drugs are non-returnable and non-refundable.
Refunds on prescription medication and non-prescription medications are restricted whether online or in physical pharmacies. This is why it is important to double check the details of your order before check out. You may also want to have your prescription checked from time to time to make sure that you will not purchase excess medications.
Satisfying Customer Service
Our team is made up of excellent customer care agents, pharmacy technicians, physicians, pharmacists and medical office assistants. We deliver nothing less than the highest standards of care for our valued clients. For more information please call 1-877-244-0431 or email [email protected].
Prescription Point is an online Canadian pharmacy intermediary of choice. Safely order your prescription drugs and over-the-counter drugs through accredited and fully licensed International and Canadian Pharmacies.