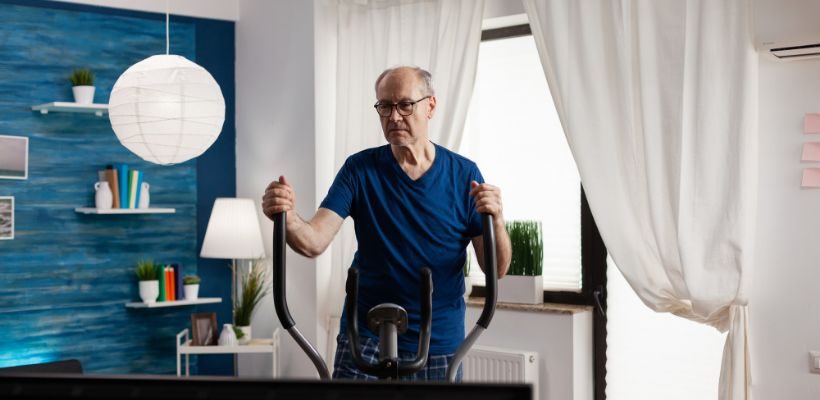 We all know the positive benefits exercise provides us with, but do you know that exercise is particularly important for older adults as well? Yes, that's true! Exercise is typically divided into four types: those that work on strength and muscle, those that work on cardiovascular endurance, those that work on flexibility, and those that work on balance.
A new study suggests that interactive exercise, which tests a senior's cognitive abilities, has more benefits than traditional exercise for adults between 59 and 99. Yes, you heard it right! And you should know that the cognitive challenging exercises that we are talking about are exergaming for seniors. Want to know about it in detail? If yes, keep reading as we are going to tell you about exergaming, and its benefits, through a study.
How Does Ageing Affect Our Body?
Before we move ahead to know about the benefits of exergames for elderly people, let us first tell you about the effect of aging on your body. You should know that muscle mass starts to decline after age thirty, so it is very important to keep up your strength and quality of tissue.
As we age, we also lose aerobic fitness ability, which contributes to reduced mobility in daily life. Remember that it is equally important to keep up one's flexibility because joints change with age and this can lead to stiffness, decreased range of motion, and more injuries. Lastly, seniors should focus on their balance. We are saying this because balance exercises can help seniors avoid injuries from falls and keep them independent and mobile.
And, if studies are to be believed, exergames can help seniors deal with all these issues actively.
As Dr. Cay Anderson-Hanley, from the Healthy Aging and Neuropsychology Lab and Department of Psychology at Union College in NY, stated,
"We found that for older adults, virtual reality enhanced interactive exercise, or cybercyling two to three times per week for 3 months, yielded greater cognitive benefit, and perhaps added protection against mild cognitive impairment (MCI), than a similar dose of traditional exercise."
Benefits Of Exergames

for

Seniors
Now, it's time that we tell you about the benefits of exergaming. We conducted a study on seniors to understand how exergaming for seniors can be fruitful.
The exergames for seniors consisted of riding recumbent stationary bikes; however, they were experiencing 3D competition racing against a virtual bike rider based on their last best ride.
While engulfed in exergaming, not only did the adults experience exercise, but they also were required to plan, work their memory, and use their attention and problem-solving skills. Furthermore, there was no difference found in exercise frequency, intensity, or duration between the adults riding a regular recumbent stationary bike and the adults involved in the exergames, indicating that factors other than effort and fitness were responsible for the cognitive benefit.
Conclusion
The results of this study are important because it tells a lot about how exergaming for seniors is a good way to stay active. Not only will exercise video games for seniors keep cholesterol and cardiovascular health in check, but also improve significant positive cognitive results as well. So, harness the power of exergames, and lead a healthy and active life. 
Also Read
10 DANGEROUS EFFECTS OF STRESS ON YOUR HEALTH AND HAPPINESS
EFFECTIVE WAYS TO PREVENT ACNE FOR CLEAR SKIN IN ADULTS
DISCOVERING 5 INCREDIBLE HEALTH BENEFITS OF FATS
7 GAME-CHANGING TIPS FOR MANAGING TYPE 2 DIABETES
UNVEILING THE DANGEROUS ASPARTAME SIDE EFFECTS ON HEALTH