Are you Looking to Buy Zocor (Simvastatin) from PrescriptionPoint.
(Top Brand Option)
Zocor

Prescription Required
Formulation :
Film Coated Tablet
(Affordable Generic Options)
Simvastatin

Prescription Required
Drug Description: The Zocor medication above is manufactured by Merck Frosst and Merck Sharp & Dohme.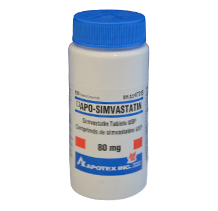 In the US, Customers can order Zocor online, or as the generic alternative, Simvastatin as well as many more quality medications from PrescriptionPoint.com. Our online pharmacy allows you to purchase medication 24 hours a day and 7 days a week.
Thank you for choosing PrescriptionPoint.com. Our products are guaranteed delivered through timely, reliable, and safe shipping. It takes approximately 2 to 4 weeks from the day you order it to arrive at your house. All orders placed on our SSL (Secure Socket Layer) secured website are backed by the BuySAFE security seal which offers a third-party guarantee of your purchase, and $10,000 in identity theft protection.
PrescriptionPoint.com proudly displays its CIPA (Canadian International Pharmacy Association) seal to signal that we conform to nothing but the highest standards for quality. Our CIPA affiliate pharmacies are recognized globally as the first choice in prescription and non-prescription medicine. PrescriptionPoint.com guarantees the best price for Zocor and will beat any other price found on a CIPA certified website for the same drug by 5 dollars.
A prescription must be provided for Zocor as with all prescription medicine here at PrescriptionPoint.com. The customer must fax a copy of their prescription and following that the customer must mail the actual original prescription to PrescriptionPoint.com. No exceptions.
If you have any questions regarding medication or basic inquires about PrescriptionPoint.com you can contact us by mail, phone or internet. If you wish to speak to a representative be sure to call our toll free number 1-877-244-0431 from Monday to Friday from 6am to 8pm and Saturdays from 7am to 5pm.
Zocor (Simvastatin) is used to lower cholesterol. It works by blocking the production of cholesterol in the body. This medication reduces low-density lipoprotein (LDL) cholesterol and the total cholesterol in the blood preventing heart disease, arteries from hardening, and conditions that can result in heart attack, stroke and vascular disease. Zocor (Simvastatin) is part of a complete treatment program including diet, exercise, and weight control. Follow these routines very closely.
This medication should be stored at room temperature. Keep away from moisture, light and heat.
Product Info:
When taking Zocor (Simvastatin) avoid eating foods that are high in fat or cholesterol as part of your diet plan. Also avoid drinking alcohol because it can raise triglyceride levels and may damage the liver.
Let your doctor know if you have diabetes, underactive thyroid, kidney disease, or a muscle disorder. Also, inform your doctor if you are taking any other prescription medication or over the counter medications, herbal products, vitamins, and minerals. Do not start taking a new medication without informing your doctor.
Read the directions on the prescription label. Do not take larger doses than prescribed by your doctor. Do not take this medication longer than recommended by your doctor. Take the medication with a full glass of water (8 ounces) in the evening with an evening meal or at bedtime. If you are prescribed to take this medication several times a day, take Zocor (Simvastatin) with meals. Your blood and liver will need to be tested to ensure the medication is helping your condition. It is important to go to your doctor appointments. In rare cases, patients taking Simvastatin has developed a condition resulting in the breakdown of skeletal muscle tissue leading to kidney failure. If you notice any unexplained muscle pain or tenderness, muscle weakness, fever or flu symptoms, and dark colored urine, notify your doctor immediately. Your doctor may need you to take Zocor (Simvastatin) on a long-term basis if you have high cholesterol.
Do not take Zocor (Simvastatin) if you are allergic to Zocor (Simvastatin) or any other drug, pregnant or breastfeeding, or have liver disease.
Severe: Muscle pain, tenderness, or weakness with fever or flu symptoms and dark colored urine.
Common: Mild stomach pain, gas, bloating, stomach upset, heartburn; nausea; constipation; or diarrhea.
Other: None.
Additional information
| | |
| --- | --- |
| Brand Name: | Zocor |
| Scientific Name: | Simvastatin |
| Other Names: | Simvastatin, Zocor |
| Strength(s): | 5mg, 10mg, 20mg, 40mg, 80mg |
| Quantities Available: | 30, 84, 90, 100 |
| Formulation: | Film Coated Tablet, Tablet |
The information above is provided by third parties to Prescriptionpoint.com for Zocor (Simvastatin). This information is for general purposes only and is not intended to replace a physician's advice. Always consult with your doctor or a qualified health care professional if you need advice on any medical concerns.
RELATED PRODUCTS